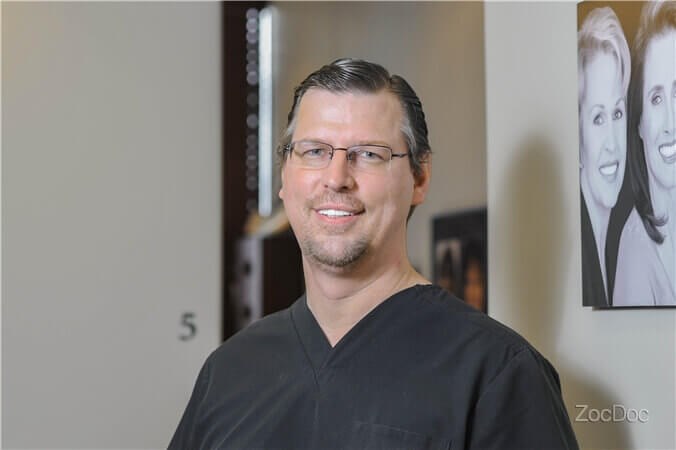 Dr. Dan Sperzel is a board-certified practitioner who helps patients achieve better oral health at Made Ya Smile in Cypress, TX. He and his team of assistants are proud to offer a warm and welcoming environment where they provide excellent dental care. It is the top priority of the clinic to treat patients and help them feel more confident about their smile, which is why we offer state-of-the-art dental technology and a range of services to ensure you're getting the care you need. Dr. Sperzel is married with two children and is a self-described family man. His interests include sports such as golf, fishing, diving, as well as spending time with his children at home.
Dr. Sperzel earned his bachelor's degree in biology from the State University of New York Albany and his D.M.D. degree from Tufts University School of Dental Medicine, located in Boston, Massachusetts. He also completed a general practice residency at the University Hospital at Stony Brook, NY. Since 1999, Dr. Sperzel has practiced dentistry in New York, Florida, and Texas. With his extensive training in dentistry, Dr. Sperzel has the skills to help individuals improve their oral health. Dr. Sperzel frequently stays up-to-date on the latest dental practices and methodologies so patients can benefit from his experience and knowledge.
Dr. Sperzel is a certified provider of Lumineers® and Invisalign®, and is known for his commitment to the highest quality dentistry and his gentle touch with his patients. At his practice, he also offers services such as implants, crowns, and bridges, periodontal treatment, teeth whitening, and emergency dental care. Our staff is chosen not only for their skills and expertise but also for the level of care we provide for each patient. This is why our team seeks to educate patients about their overall oral health by teaching the best techniques in brushing and flossing. Made Ya Smile is happy to address any of your questions or concerns about our dental practice in Cypress, TX.
Reviews
"Recently noticed a sensitivity in a tooth that I decided to have checked out at Made Ya Smile in Cypress off 290/Barker Cypress. Staff was friendly, although I did feel like I was passed around to many different employees during my initial check up. One assistant to take X-rays and pictures, one to do my cleaning, then the doctor came in for about 5 minutes to confirm what the others had found before sending me the another person for consultation and to schedule another appointment. (The pictures were taken to generate a picture of what I would like if I purchased Lumineers for a bargain price of $8,000 of which I politely passed on. ) Cleaning was done well and I was scheduled for a cavity filling the following week. The procedure was quick and the doctor made it pretty painless. Only took about 20 minutes. I was happy overall with the services performed but was again made to turn down another offer on Lumineers and the consultation specialist even came in to offer another procedure for an additional cost while I was there. Overall the procedures seem to be well done, the office is very clean, and staff is friendly. Just be sure to prepare for a lot of sales pitches through out your visit as they clearly find opportunities to up sell regularly. On the upside, they did make molds of my teeth during the initial visit in order to provide free bleaching trays. Not a bad incentive for a first visit."
L.V.
Yelp
"This is by far the best dental clinic around. Great staff and dentist along with the best equipment I have ever seen."
D.J.
Yelp
"This is an excellent dentist and staff. Everything is professionally done and with a smile. Never a complaint about any work that was done. Top notch !"
M.W.
Yelp
"Let me tell you, if you have a dentist phobia GO HERE! I literally dosed off while they gave me a root canal. No joke. And no they didn't give me strong meds or anything, Dr. DAN just has a very gentle and precise hand. Creme de la creme"
A.M.
Yelp
"I normally go to a private practice dentist but since he retired I thought I would try Made Ya Smile since their appointment times are more liberal. I don't have perfect  teeth, I have been lucky enough to have inherited "bad teeth genes".   Everyone there has been fantastic! I know I have a lot of dental work to get done but when I got my cleaning they didn't pressure me.  A couple of months later I  decided to do one part of my treatment (since I could no longer eat with that side). I got in quickly and they were able to get my daughter in for her cleaning at the same time.   Bottom line: they are fantastic - great customer service - no high pressure "up selling" - and both times I had an excellent dentist!  Our entire family has a new dental office."
L.M.
Yelp